Harmonious coexistence with the local community
Our company, which is headquartered in Shiga Prefecture, where Lake Biwa is located, is engaged in cleaning activities around Lake Biwa and the Inukami River, which flows into Lake Biwa.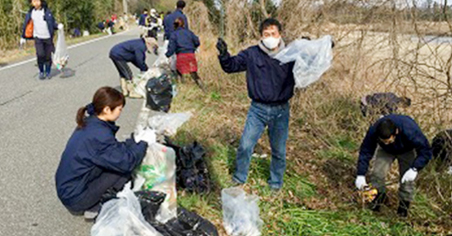 Inukami River Cleanup Operation
We continue to participate in the "Inukami River Cleanup Campaign" sponsored by Koura Town in Shiga Prefecture, where our head office is located.
Every year, about 40 employees participate in cleaning activities.Garbage includes not only empty cans and bottles, but also illegally dumped items such as tires and home appliances. It is a difficult task, but the participants are actively working on it.We will continue to work on this activity in cooperation with local residents, companies and governments as part of efforts to raise awareness about the protection of the river that flows through Lake Biwa and to create an environment that prevents illegal dumping.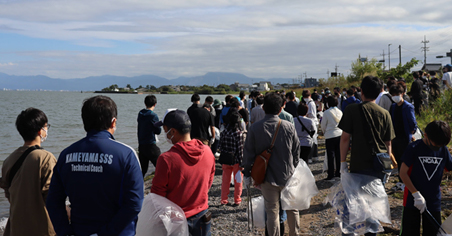 Lake Biwa Cleanup Campaign
We also participate in the Lake Biwa Cleanup Campaign, which is organized throughout the prefecture by the Shiga Prefecture Workers' Welfare Council and Rengo Shiga.This activity is held every year in September as part of environmental beautification enlightenment activities with the goals of "improving the local environment" and "removing litter."Although it is held in a very hot season, as a member of the Lake Country, it is an important responsibility to preserve the environment of Lake Biwa, which is an important asset, to the next generation.We work hard and have fun.
Amago Station Naming Rights (Secondary Station Name)
We have acquired the naming rights (deputy station naming rights) for Amago Station on the Omi Railway, which is the nearest station to Furukawa AS headquarters.Amago Station is a station that our employees have used for commuting for many years, and we acquired Furukawa AS in the hope that it would become familiar to local residents and be known to more people.We will continue to strengthen our ties with the local community and aim to realize a sustainable society by contributing to the local community through our business.
Acquisition of Shiga Biodiversity Initiative Certification
We are developing activities to conserve biodiversity and create nature conservation activities.In addition to the promotion of measures to reduce the environmental impact of our business activities, we have been recognized for our efforts to nurture pasques, which has been designated as an endangered species and Shiga Prefecture's designated rare species of wild fauna and flora, and to carry out cleanup activities in the local community.Acquired 3-star biodiversity initiative certification.We will continue to promote proactive activities to achieve SDGs centered on carbon neutrality together with "Lake Country Shiga".
Efforts to donate blood
Twice a year, our head office accepts blood donation buses and conducts group blood donations.About 150 people donate blood each year.
Supporting the registration of Hikone Castle as a World Heritage Site
In the area where Furukawa AS is located, we are promoting the registration of Hikone Castle as a World Heritage Site, mainly in Hikone City.As a member of the local community, we also support registration promotion.