GST (Global STandards)
"Customer First" is our qulity policy. Under a motto "self-contained processes",
we have tight quality controls to ensure not to carry over defects into successive process.
World Skills Competition
The representatives of each country and company that has won the preliminaries will compete at the FAS or online on the theme of "Precision, Speed and Accuracy" the skills acquired in daily manufacturing operations. As peers with the same goal, we enrich communication between each company and lead to improvement in skills and development.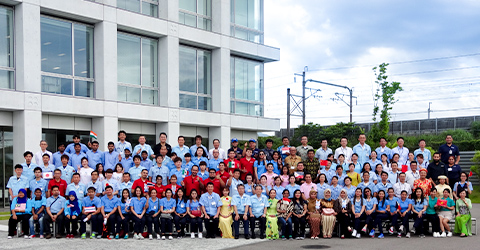 QC Circle
The QC activities of the Group are global activities in which overseas affiliates also participate.There are about 400 circle registrations, and we are working on a daily basis with the common goal of "kaizen".Once a year, a "Global QC Presentation" is held to aim at the top of the circle, and representatives from each country gather at the FAS headquarters to announce the results of their activities.Examples of improvements that can be used are taken back to the factory and spread horizontally to improve the level.The award winning circle also participated in the Furukawa Electric Group's QC presentation, and has achieved excellent results.