Onsite training and a global perspective - that is the basic stance of our human resources development. Not only Furukawa Automotive Systems' itself but all our affiliated companies both in Japan and overseas have a thoroughly detailed human resources development system emphasizing hands-on experience. In addition to our technical training, we have also strengthened our program of courses to enhance an international mindset to promote more active global expansion.
Research & Development, Design Training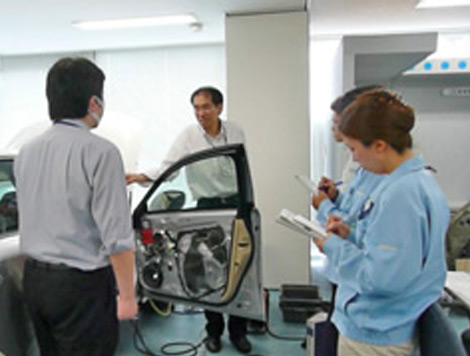 We also give design training to engineers. In addition to the training in the fundamentals of technology for all our engineers, we also offer specialized training for the needs of each department, for CAD, circuitry and path design and so on. We are also working to share information on new technologies and learning of knowledge through holding a large number of study meetings.
Global Training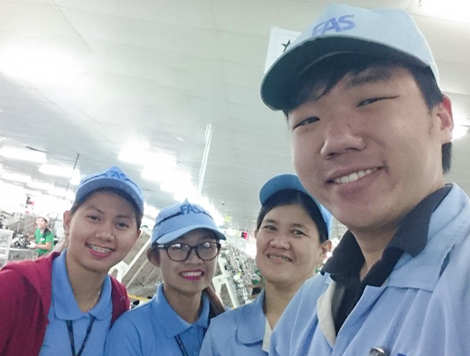 Furukawa Automotive Systems' conducts a wide array of training programs to develop personnel capable of taking active roles on the world stage. Each program is tailored to a particular occupational level. For example, Third-year Training is aimed at employees in their third year with the Group after joining straight from graduation. The Trainee Program enables selected young candidates for overseas posts to work overseas for six months to a year. In Global Executive Training, selected candidates for senior positions at overseas affiliates learn the basics of corporate management in a systematic manner. The Group also offers a varied menu of language studies that employees can apply to their duties, such as English-language classes and presentations and practice writing e-mail in English.
JR Courses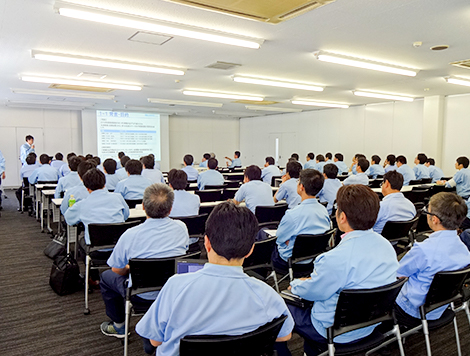 Our JR (Job Result) courses are aimed at younger employees in their fifth year at the company. They document a summary of their goals at the start of the year and what they did during the year, then present these in front of executives and other attendees. Through this course we try to make them polish their skills for creating easy to understand documents and for making presentations, learn to follow the PDCA cycle to reach their goals, raise their motivation and promote an OJT in the workplace. It also gives a chance for employees at the same level in different departments to learn about others' work through the presentations which serve as a mutual stimulus.