On Monday, April 3, 2023, the 2023 Company induction ceremony of Furukawa Automotive Systems Inc. ("FAS") was held at the Shiga headquarters of FAS.
After explaining the Company's stance on safety, Company policy and other matters, Shigenobu Abe, President of FAS, swore in the assembled inductees regarding their future activities with the Company.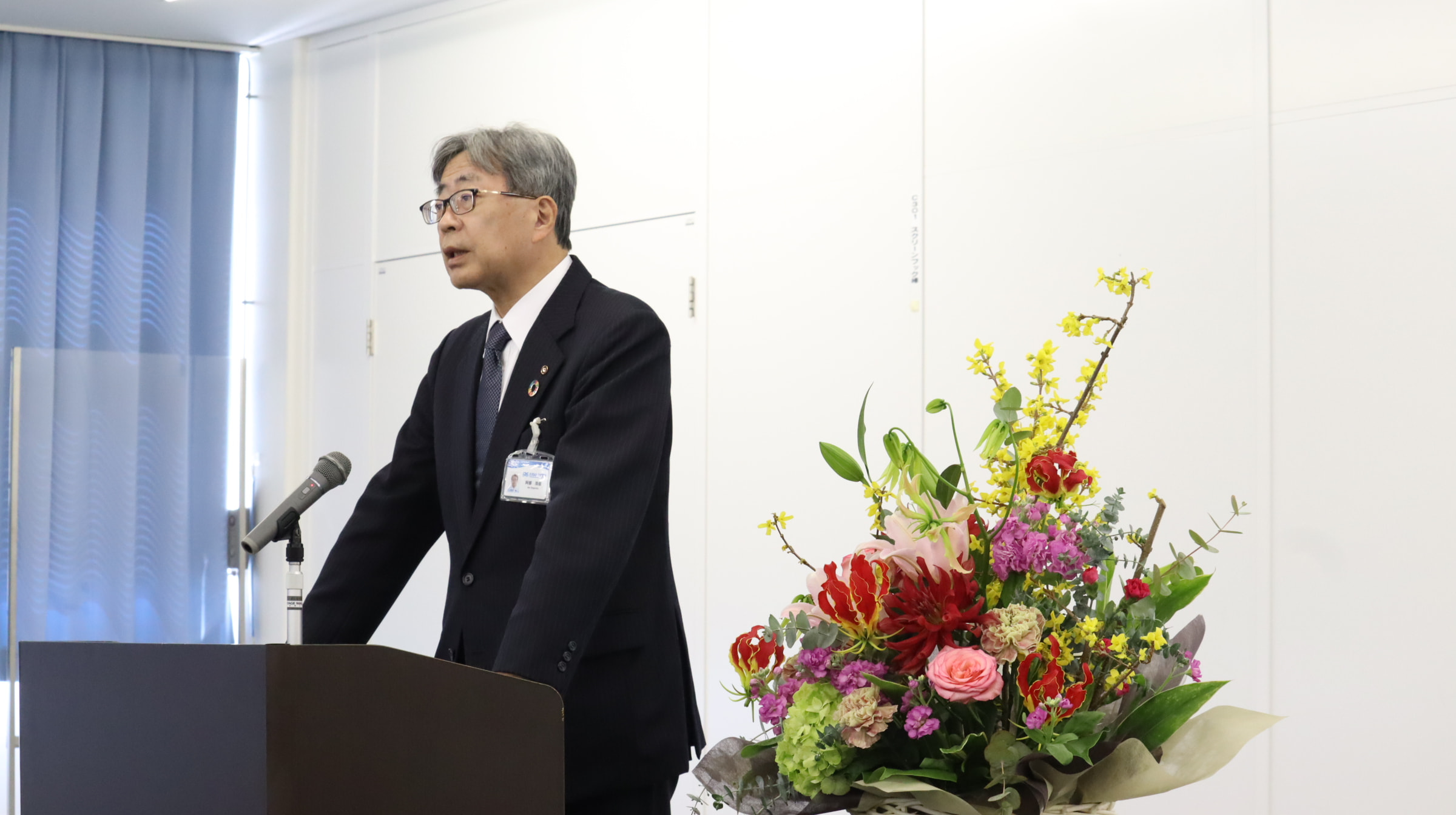 Message from the President
Go-Anzen Ni, Go-Kenko Ni! Be safe and healthy always! My name is Shigenobu Abe and I am President of Furukawa Automotive Systems Inc.
Congratulations to all of you who are joining FAS as new employees in 2023. I am delighted to think of the friends you will make as fresh, energetic and ambitious new employees of FAS and I congratulate you from the bottom of my heart. As you begin your new lives as FAS employees, I would like to speak about what I ask and expect of you.
Safety and Health
The government has downgraded COVID-19 to common infectious disease. Every day we feel how quickly the feeling of freedom has spread with the end of the pandemic. Yet I'm sure most of you retain feelings of bitterness and disappointment from those impressionable college years, when your freedom was restricted. To you I say, channel that passionate energy into your work, leisure pursuits and personal lives to the best of your ability. I will cheer you on. But it goes without saying that you must also take good care of your mental and physical health and safety.
At FAS, we strictly adhere to the practice of routinely greeting each other with the phrase, Go-Anzen Ni, Go-Kenko Ni!, meaning, "be safe and healthy!" We do this to enhance our and each other's awareness of safety and health. To protect the safety of the Company's approximately 42,000 employees worldwide, everyone, from me as President to employees working on the front lines of operations, start every interaction with Go-Anzen Ni! and end each one with Go-Kenko Ni! Again, this practice is strictly observed. When you report to work in the morning, when you pass each other in the corridor, be sure to call out in a loud voice, Go-Anzen Ni, Go-Kenko Ni! Yes, I'm sure you'll feel a little self-conscious at first. But we all greet each other this way as a matter of course—even our colleagues at FAS plants overseas. Issuing this greeting in a loud, clear voice has the direct benefit of supporting your health and safety in both body and mind. So begin everything you do with a greeting.
Attitudes Toward Work
As a result of the COVID-19 pandemic that swept the world beginning in 2020, the Company was obliged to lock down its factories in the Philippines, Vietnam and China, while automakers suspended production for lack of semiconductors. For your seniors here at FAS, every day was a roller-coaster. But little by little, I am truly grateful to say, we learned to respond flexibly in the midst of hardships, overcoming adversity through teamwork and a strong will to succeed. I devoutly hope that in 2023 our organization will benefit from the smoother coordination among departments we learned to practice through this experience.
I am sure that, as your freedoms were taken from you during the pandemic, you made the most of your online lives to find a variety of creative solutions to challenges, applying the wisdom you gained to remove the obstacles in your path. Face each challenge directly, shoulder-to-shoulder with your seniors, and work together to overcome them and grow in the process. I expect great things; I know you won't let me down.
Now, in closing: Look around you. The people assembled with you here, your fellow inductees in the same season, will become precious friends. Through good times and bad, I exhort you to help each other, living each experience together in a spirit of optimism, joy and positivity. Each one of you is strong; never forget that. In constant dialogue with your supervisors, seniors and co-workers, stride forward together toward that bright future. I heartily congratulate each one of you on this auspicious day of your induction into FAS and with that I conclude my remarks.
Go-Anzen Ni, Go-Kenko Ni!