On April 1, 2020, Furukawa Automotive Systems Inc. (Furukawa AS) held a welcoming ceremony for new employees at Furukawa AS headquarters.
On this beautiful spring day, Shigenobu Abe, President and CEO of Furukawa AS, welcomed 17 excited but nervous new employees to the Company. Mr. Abe spoke to the assembled recruits about topics such as the safety-oriented mindset, the Medium-term Management Plan and globalization, concluding his remarks with the Furukawa AS watchword: Go-anzen ni! Stay safe!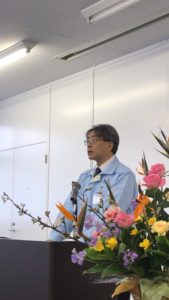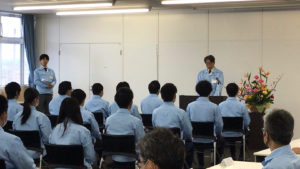 President's Welcoming Message
Stay safe! My name is Shigenobu Abe and I am the President of Furukawa AS.
To all new employees joining the Company in 2020, congratulations and welcome to Furukawa AS. I am delighted to welcome this fresh crop of ambitious and dynamic individuals as our newest members of the Furukawa AS family. As the representative of Furukawa AS, I welcome you all sincerely and wholeheartedly.
Today, as you begin your careers as employees of Furukawa AS, I would like to share with you the attitude and practices I request our employees to follow at all times.
The first of these is safety.
At our company, safety takes precedence over all other considerations. When you report to work in the morning, when you pass each other in the corridors, please greet each other in a loud, clear voice with Go-anzen ni!
You may feel a little self-conscious about this at first. But at every Furukawa AS factory, in Japan as well as overseas, greeting each other in this way is second nature to us. There is no question that exchanging greetings in a loud voice supports mental and physical health as well as safety. So please, start everything you do with a proper greeting.
Next I'd like to talk to you about Furukawa AS' Medium-term Management Plan, Kira Kira 28.
Kira-kira is Japanese for "dazzling, sparkling, shining." The term originated as Kira Kira 25 in 2015, signaling the Company's determination to make Furukawa AS a Company where everybody shines brightly by 2025, a decade later. This year we overhauled the plan, making a fresh start under the name Kira Kira 28, with 2020 as the plan's initial year. For the automotive industry of which Furukawa AS is a part, 2020 looks set to emerge as a once-in-a-century turning point, with revolutionary changes such as electronic controls, automated driving, connected vehicle operation and car sharing. In preparation for the mobility society of the future, Furukawa AS is resolutely implementing Kira Kira 28, focusing especially on the business fields of lightweight design, energy management and safety systems, to provide customers with the safety and security features they need.
This year's President's Policy is "Leaping into Kira Kira 28 with 2020 as the starting year." I ask all of you to engage in vigorous debate and dialogue in a spirit of mutual respect. As soon as possible, I would like all of you assembled here today to start engaging in study so that you can play your part in this ongoing conversation.
Next let's talk about globalization.
Furukawa AS is a core global company of the Furukawa Electric Group. Naturally, to do business in the fully globalized automotive industry, we have to push constantly forward with our own globalization. Today well over 100 Furukawa AS personnel are playing active roles stationed at 26 locations in 13 countries outside Japan. I would like all of you to become able to operate overseas as soon as humanly possible, and I want the Company to mature to the point where everyone who wishes to be deployed overseas can do so.
Finally, I urge you all to strive ambitiously together as valued colleagues, prizing your family and friends as well as your fellows assembled here, entering the Company in the same year. Let us walk together hand in hand toward that bright, shining future. I congratulate each and every one of you from my heart on this occasion of joining this Company and warmly welcome you to Furukawa AS.
That is all. Go-anzen ni. Stay safe!