By now just about everyone has watched or seen motor sports, on TV, online or even in person.
At the end of the 19th century, motor sports began with automobile races in France. Today the category includes motorcycle races and more, expanding and growing along with the automotive industry.
Among the best-known of these is the MotoGP World Championship ("MotoGP"). Boasting a history of over 70 years, MotoGP is considered the pinnacle of motorcycle racing. In this MotoGP, the Furukawa Electric Group, of which Furukawa Automotive Systems Inc. is a member, is proud to sponsor the factory team Monster Energy Yamaha MotoGP.
When most people think of Furukawa Automotive Systems, they think of components for four-wheeled vehicles. In fact, the Company is involved in motorcycles as well.
In this article we introduce you to Furukawa Automotive Systems' relationship with motor sports and the Company's lineup of motorcycle-related parts, while following the excitement of motorcycle racing. In Part 1 of this two-part series, we showcase MotoGP and show you how to get the most fun out of watching MotoGP. In part 2, we look at the excitement of MotoGP from a manufacturing perspective. We think you'll enjoy what we have to offer.
Note: All photos not bearing the Official Sponsor logo are photos taken by Furukawa Automotive Systems employees.
MotoGP, the Pinnacle of Motorcycle Racing
---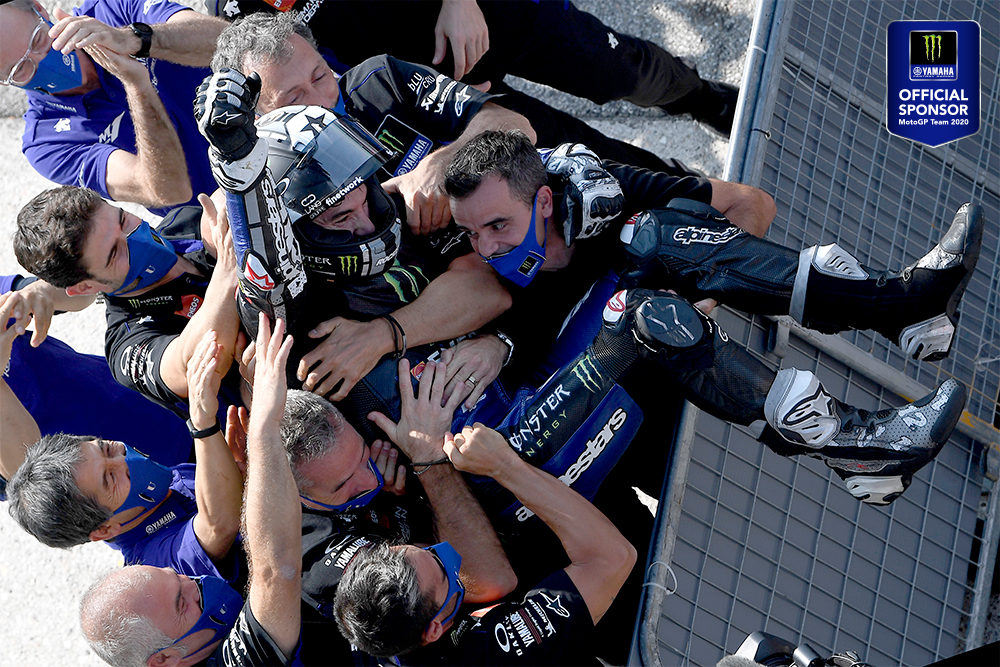 The first MotoGP event was presented in 1949. Like Furukawa Automotive Systems, which was founded in 1950, MotoGP boasts a history spanning over 70 years.
As one of the world's most illustrious road-and-track motorcycle races, MotoGP captivates fans worldwide.
Races are held in four classes, based on engine displacement: MotoGP (1000cc), Moto2 (600cc), Moto3 (200cc) and MotoE (electric). Of these, the 1000cc MotoGP stands at the apex of the motorcycle-racing world, on a par with Formula1 for motor cars. The 2020 MotoGP schedule consisted of 19 races in 15 countries and these numbers are set to increase in years to come. The races transpire in premier racing venues in each country, including Japan's Twin Ring Motegi. Riders compete year-long to climb in the rankings based on a point system.
With top speeds of 350km/h, machines of 200HP and lean angles as sharp as 60°, MotoGP bursts with speed and power, gripping the imaginations of experts and the general public alike.
Most people unfamiliar with MotoGP may associate the sport with speed alone. On that score, MotoGP bikes have much bigger engines than the 50–60HP typical of light motor vehicles.
Banking angle indicates the degree of a rider's lean on corners, with 0° indicating vertical position. To corner, riders need to lean themselves and their bikes as much as 60°—a feat of incredible difficulty.
The thrilling sight of the riders leaning so hard that one elbow and knee slide against the pavement, taking one beautiful curve after another, is one of the great pleasures of watching MotoGP.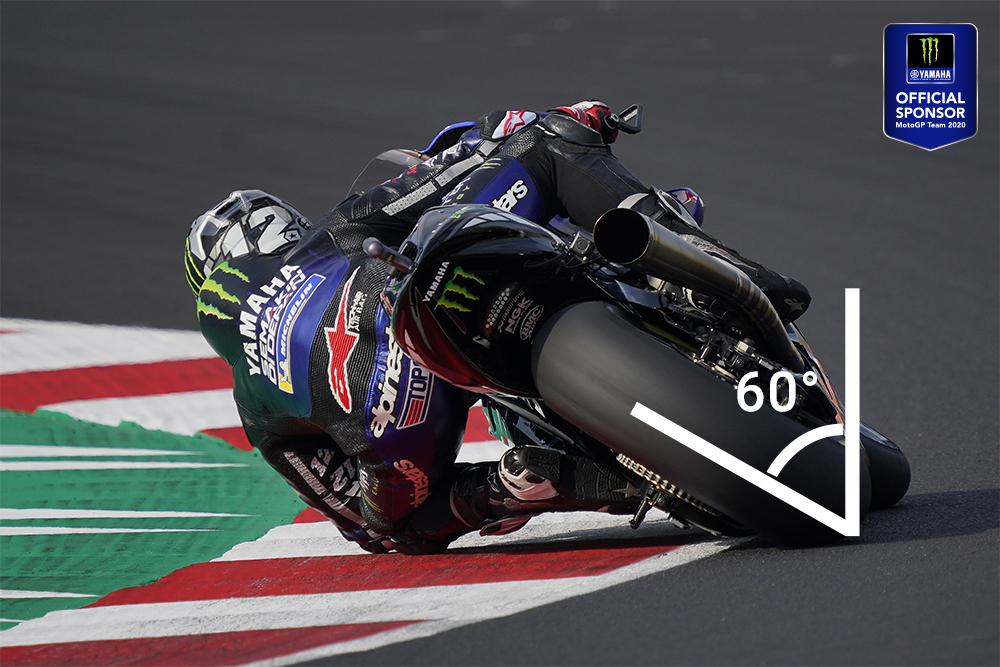 Group employees have their say: The Furukawa Electric Group as sponsor of a factory team and the Group's corporate culture focused on well-being
---
We spoke to one of the people in charge of the Furukawa Electric Group's sponsorship.
―When did you become a sponsor, and what led you to do so?
The Furukawa Electric Group became an official sponsor in 2017. The connection arose from our relationship with Yamaha Motor Co., Ltd., which adopts our products in their marine craft, motorcycles and so on. In 2019 Yamaha Motor honored us with a Technology and Development Award.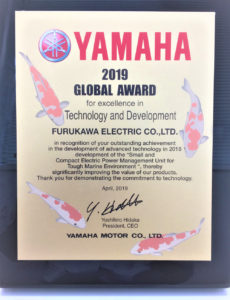 ―So that's when you became involved with MotoGP?
The details are confidential, but Yamaha Motor had already been using our parts in their MotoGP machines.
―How did people at the Furukawa Electric Group react when you became a sponsor?
We're an auto-parts manufacturer, so naturally a lot of us are fans of motor sports. Frankly, MotoGP at the time was not as big a deal in Japan as it had been in the past. A few people here and there in the Group said they were surprised. We hadn't paid much attention to MotoGP before, but now that we were on board some of our senior managers became hooked on MotoGP.
―What about your overseas employees?
MotoGP is especially popular in Europe and Southeast Asia. When the sponsorship was finalized, we received excited e-mails from a number of our colleagues in Europe.
―So this was a moment that brought your Group together worldwide.
I had already been a big fan of MotoGP, so when I heard that we had become a sponsor for a factory team I shed tears of joy. I felt so happy to have joined the Furukawa Electric Group. Seeing the logo of the company I work at each time a race is held is like a dream come true for me.
―Spoken like a true fan! Seeing your company contribute to a global sport and watching the action with your own eyes is a precious experience. Work that brings the world together is one thing that makes Furukawa Automotive Systems interesting. Have you ever been to one of the events in person?
Absolutely! Every season even some of our board members go to cheer on the Monster Energy Yamaha MotoGP team in Europe, Japan or wherever.
―You must thank your lucky stars that you're a Furukawa employee! Your work ties in with things you enjoy and your Company's work contributes to society. Those feelings must make all the difference in your job over the long term.
―Finally, when you're watching a race, how can you tell that the Furukawa Electric Group is a sponsor?
The "Yamaichi logo" of the Furukawa Electric Group is displayed on the Monster Energy Yamaha MotoGP team's machines and pit. Keep an eye out for it at the next race.


―Thanks for talking to me.
In the office two helmets were kept carefully, each signed by the team's riders, Valentino Rossi and Maverick Viñales.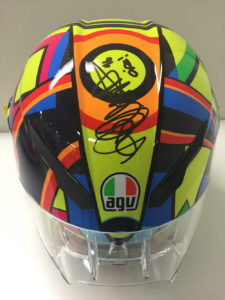 This interview about the experience of being an employee of a sponsor company gave me a glimpse of the corporate culture of wellbeing that is a signature feature of Furukawa Automotive Systems.
Extra Edition For those who want to see more: A MotoGP special spectator report
Group employees have their say: The MotoGP venue and how to enjoy it
---
An employee who is a MotoGP fan and has watched the races in person explains how to enjoy the Japan Grand Prix, held every October at Twin Ring Motegi, and the excitement it holds. This is an escorted behind-the-scenes tour we're sure you'll enjoy.
Spectator report by a Furukawa Automotive Systems employee [Link to "The MotoGP venue and how to enjoy it" page]
Final Thoughts
Sadly, this year's competition in Japan was cancelled due to the COVID-19 pandemic. Yet the riders are continuing with their training. Looking forward to the postponed race and activities next year and beyond, the Furukawa Electric Group will continue to support the MotoGP team and its riders.
If you'd like to see more, we'd recommend you to watch archive and highlight videos. Until the next race, we hope you will enjoy learning more about the exciting world of MotoGP racing.
Official website of Monster Energy Yamaha MotoGP
Our next installment is a special feature on motorcycles from the unique perspective of Furukawa Automotive Systems. We introduce the parts and products used in motorcycles from a manufacturer's point of view, along with our thoughts on the world of motor sports.