When it comes to developments that symbolize next-generation technology in the automotive world, it's impossible to stop talking about electric vehicles (EVs). With the enormous impact expected of them in terms of eco-friendly performance and energy saving, EVs receive enthusiastic endorsement from environmental campaigns worldwide. Multiple automakers are racing to develop and market new models. The adoption of EVs is expected to spread still further in the coming years.
In this article, the last of this series, we focus on the relationship between EVs and Furukawa Automotive Systems Inc ("Furukawa AS"). Our aim is to paint a picture of the sustainable future the automotive industry is trying to achieve using EVs.
What products is Furukawa AS offering in its bid to promote the spread of EVs? What are Furukawa AS's strengths in this regard? We continue our discussion with Tomoyuki Yamai, Managing Director and Operating Officer at Furukawa AS.

Furukawa AS Technologies That Support the Power Supply Needs of EVs
---
―What roles do Furukawa AS products play in the EV field?
The roles of Furukawa AS products in the field of EVs and hybrid vehicles (HVs) can be summed up as power transmission, power distribution and power transformation. Our products transmit power within vehicles safely and reliably. In some cases, they transform high-voltage power into lower voltages.

―Can you give a specific example?
Our high-voltage wire harnesses fulfill that role. EVs and HVs are powered by voltages ranging from 60V to hundreds of volts. Furukawa AS provides wiring assemblies incorporating the cables and connectors required to transmit that power to the necessary sites in a vehicle.
High-voltage harnesses for EVs and HVs Product page
High voltages require junction boxes to provide the same branching and circuit protection as in low-voltage (12V) systems. We provide these products in various types, including motor-room-mounted and battery-pack-mounted models.
High-voltage junction boxes and terminal blocks Product page
Those who develop automobiles that run on high-voltage electricity must thoroughly understand the characteristics of electricity and how to manage it efficiently. The transmission plays an especially important role in transmitting power safely and reliably. Products that freely manipulate electricity to perform power transmission, distribution and transformation are the lifeblood of EVs.
We also talked about products currently under development.
In power transformation, we are quietly making progress in our development of converters, which convert voltages to obtain the voltages required. Furukawa AS is developing products for power systems that transform electricity in the vehicle, extracting different voltages according to each application.
We expect to achieve further strides in the power-supply arrangements that are so vital for EVs.
What Unique Technologies Differentiate Furukawa AS from the Competition?
---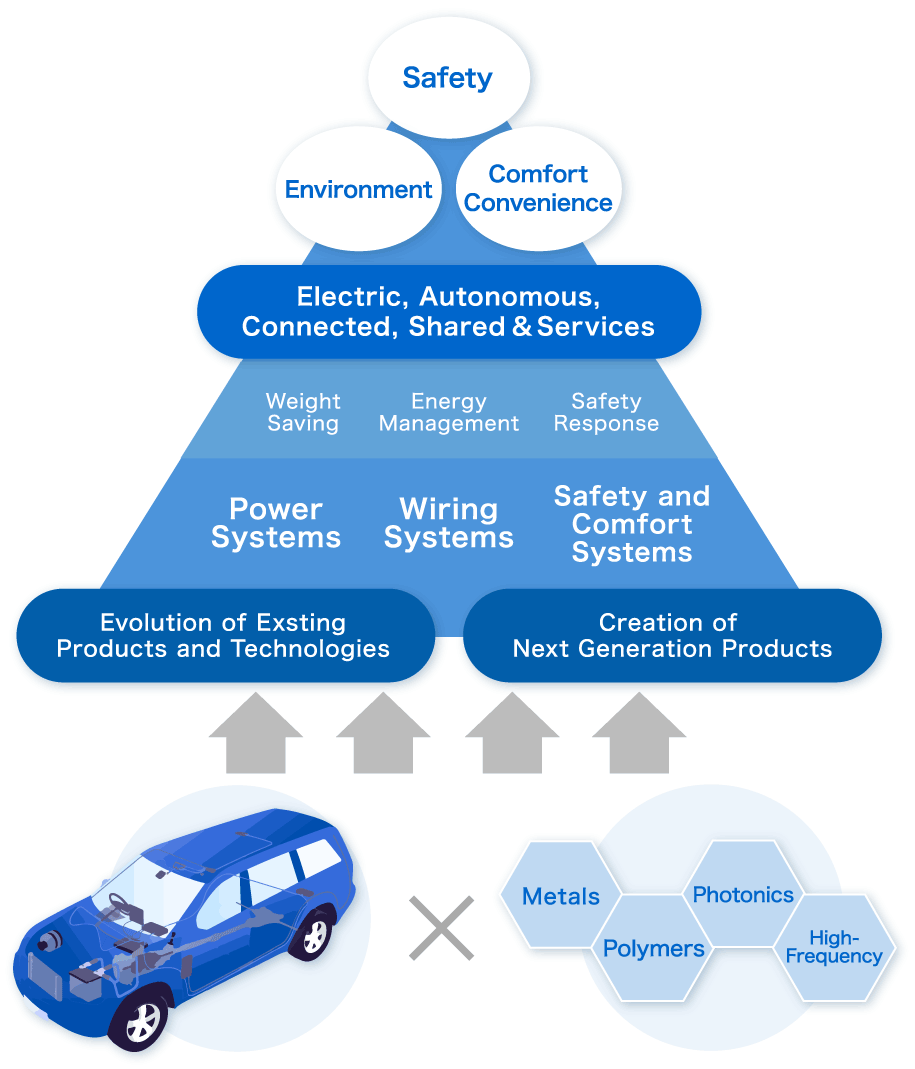 ―Staying with the products we've just been talking about, can you go into the technological aspects in a little more detail?
Providing products such as these requires the application of a whole range of technologies, starting of course at the design and production stages but also reaching to the level of the materials used. We combine and apply the technologies of our parent company, Furukawa Electric Co., Ltd., and its Group companies, such as copper, aluminum and alloy metal technologies and processing technologies, as well as polymer technologies accumulated in the production of electrical insulation materials. Applying base technologies for the vast range of electrical cables and communication cables that are on the market, we are driving progress in EV and other vehicle applications.
In addition to material technologies, Furukawa AS applies surface-treatment and other processing technologies accumulated in other industries, such as high-performance plating and welding for terminals and connecting parts, to automotive applications.


(Left) Metal technology (electroplated copper strips) (Right) Polymer technology (foamed plastic)
Similarly, in power transformation technology, we are adapting technologies we accumulated in communications, such as circuit technology; semiconductor technologies acquired in the power electronics field; and technologies for establishing their reliability, and working to apply them in automotive applications.The strength of the Furukawa AS product line is surely a key factor in the Company's ability to develop products by crystallizing and leveraging not only its own technologies but those of the entire Furukawa Electric Group. For example, Furukawa AS is applying its polymer technologies, which Mr. Yamai mentioned above, in an insulating plastic for high-voltage cables.
The insulating plastics we developed for cable production are being applied in the development of other original products. With the spread of CASE and MaaS, the requirements for these plastics are growing more demanding with each passing year. Customers need cables that are narrower, yet can handle higher voltages; or cables that are more heat-resistant. The development of plastic technologies that can cater to these requirements is one way Furukawa AS differentiates its products from those of its competitors.
Furukawa AS products range from metals, plastics and electroplating to a wide array of other materials. A broad-based and flexible development capability that can respond to these many needs is the foundation of what makes Furukawa AS technology unique, earning praise for Furukawa AS as a company that is a cut above the rest.
Environmental Problems Furukawa AS is Confronting
---
―In today's era, measures to reduce energy consumption are being strongly promoted, increasing demands for a reorganization of industry in accordance with the United Nations' Sustainable Development Goals (SDGs). Please tell our readers about Furukawa AS's initiatives in this regard.
For the auto industry, we believe that one of the most effective solutions to energy issues, climate change and other problems addressed by the SDGs is the reduction of vehicle weight. Targets for reduction of CO2 emissions are stipulated in the CAFE regulations. To meet these targets, automakers must offer EVs and HVs while also reducing the weight of individual vehicle models. Furukawa AS is applying its technologies to move forward with technical innovations to reduce vehicle weight, such as increased use of aluminum and other materials. This approach is highly effective as a means of solving the environmental problems identified in the SDGs.

Reducing vehicle weight enhances fuel efficiency, thereby reducing CO2 emissions.
Wire harnesses developed by Furukawa AS contribute significantly to reduction of vehicle weight, as we covered in Project Stories, Episode 2.

But product improvements are only one way of responding to the SDGs. Changing manufacturing processes is another effective approach.
To reduce CO2 emissions at our factories, we initiated Environmental Challenge 2050. This program is part of Furukawa AS's efforts toward a sustainable society.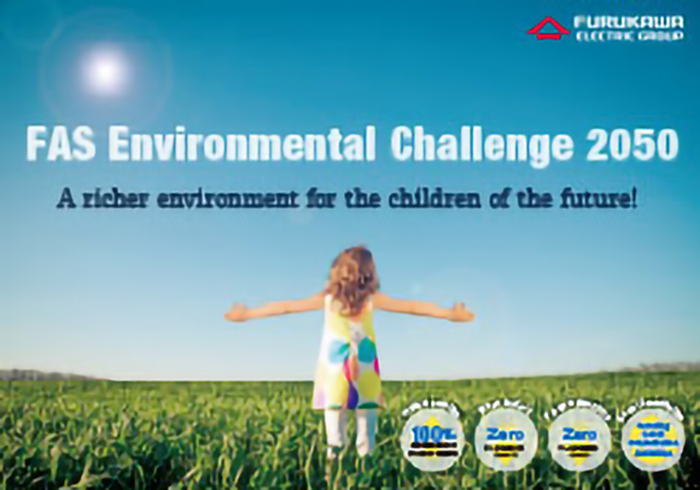 What is Furukawa AS's "Environmental Challenge"?
Today the impact of climate change is becoming increasingly apparent.In response, not only governments but private enterprises as well are setting and publishing medium-to-long-term targets for solutions to environmental issues and striving to improve their countermeasures.
To contribute still further to solving the environmental issues that confront the planet, in April 2018 Furukawa AS announced Environmental Challenge 2050. Under the slogan "A richer environment for the children of the future!" Furukawa AS is working steadily toward its target state for the year 2050.

To contribute to the achievement of a sustainable society, we aim:
To make 100% of our output as products in harmony with the environment.
To reduce CO2 emissions from our factories and from the entire life cycle of our products to zero.
To contribute to regional communities by creating nature-preservation activities.
The Path Furukawa AS is Charting Toward a Sustainable Future with EVs
---
―Please tell our readers about your aims and outlook regarding the EV field and the type of workforce you wish to cultivate. If you have a picture in mind of what a sustainable future would look like, please share it with us.
In promoting the widespread adoption of EVs and HVs, Furukawa AS aims to provide products that make automobiles reliable and comfortable. At the same time, we also place importance on increasing ease of operation, so in addition to power transmission and power transformation we are working on new technologies for power supply (charging). Accordingly, we are advancing the evolution of power supply from manual power supply by connecting a cable, which is the current solution, to wireless supply of power from an electrode plate mounted on the side or bottom of the vehicle.

Mr. Yamai says that, to expand the adoption of EVs, Furukawa AS will have to pour efforts into both tangible and intangible aspects to improve ease of use and service while continuing to conduct product development.
This need is reflected in his image of the kind of personnel the Company needs.


The personnel we need are those who have skills not only in materials and their processing, but also in the field of power electronics—that is, the design and evaluation of products that supply great quantities of energy at high voltages. We are working hard to secure such personnel, through both in-house education and recruitment from outside the Company.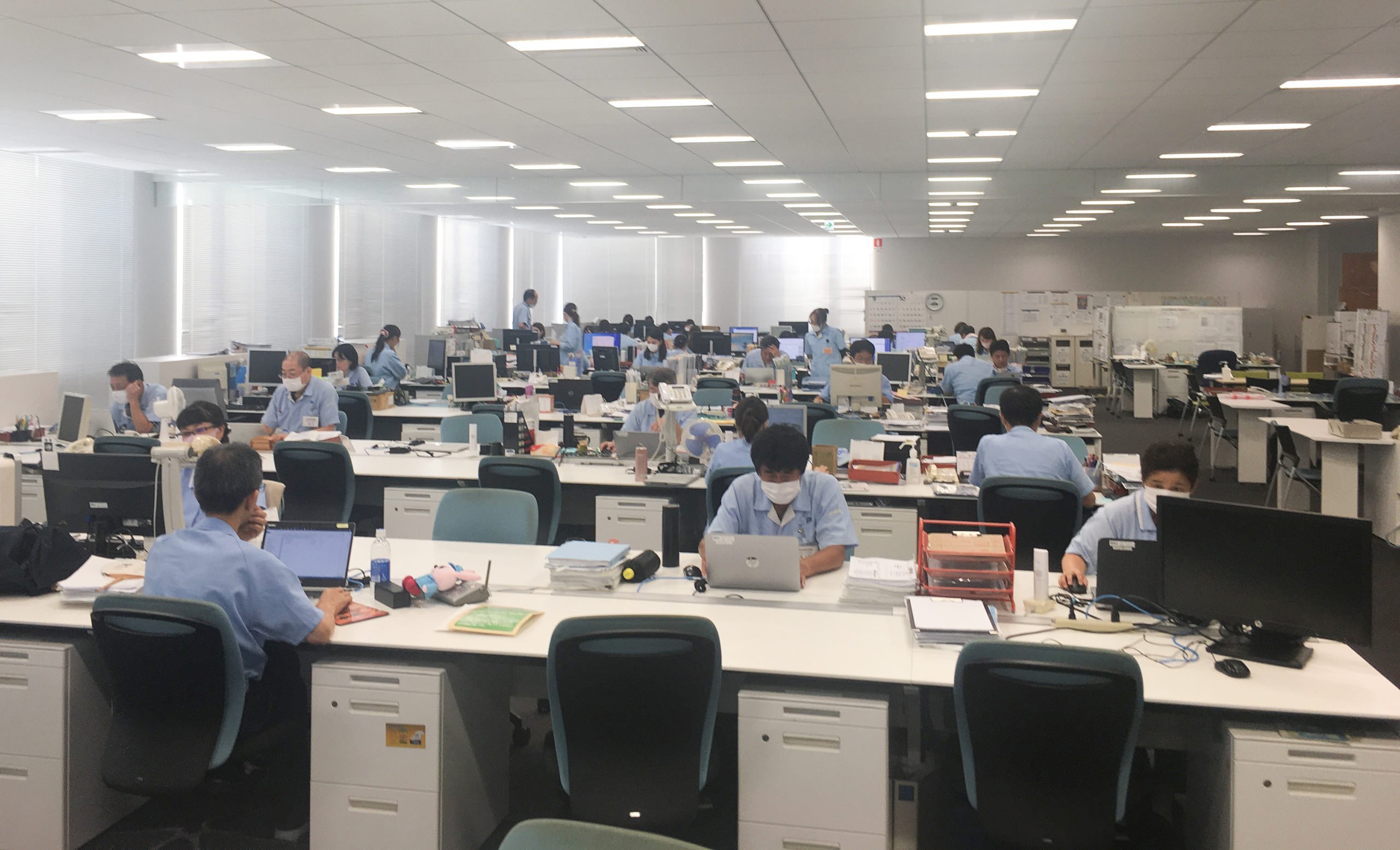 People, products and services in high demand are constantly on the move within and between industries.
The 2,000-plus employees of Furukawa AS work closely with the engineers leading industries on every important point, establishing an assured role for the Company in the automotive industry and connecting to the next generation.
> Contact us regarding products
Conclusion
Finally, please tell us about the relationship between Furukawa AS and EVs.
I expect the expansion of demand for and sharing of EVs to accelerate more than ever, as technical innovation advances and attitudes toward environmental issues change. EVs will become indispensable, not only in the automotive industry but also in the development of "smart cities" throughout society, as expressed through CASE and MaaS.
From this interview we gained a deep impression that Furukawa AS, thanks to its solid technologies and far-seeing business vision, is playing a leading role in the daily advances of the ever-changing automotive industry.
We will continue to update this series of interviews on an occasional basis. Please look forward to the next installment in our continuing series of Furukawa AS Project Stories.